Half term in London is coming up quickly. It's time to rest, relax and be free of the schedule for a week or so. It's also time to fit in those essential appointments that you don't want to have to take days off for during term time.
Scheduling an appointment with Safarian & Simon could be the start of a better visual experience for your child, especially if there is any evidence that they are suffering from myopia.
WHAT IS MYOPIA?
Myopia is is official name for 'shortsightedness'. It's an increasingly common eye condition that affects individuals from childhood onwards, caused by both genetics and by lifestyle factors.
Not only does myopia affect your child's vision in the short-term, it can also lead to eye issues later in life, such as cataracts and glaucoma.
There's good news though: although it can be easily addressed with glasses, or normal contact lenses, now there's something even better – MiSight contact lenses!
HOW CAN YOU TELL IF YOUR CHILD IS MYOPIC?
A clear sign that your child is struggling with their eyesight is that they begin to hold books or sit close to screens in order to see them properly. They might also complain of blurred vision when looking into the distance.
The best way to be certain is to keep up to date with regular children's eye exams at Safarian & Simon. We can do simple, non-invasive tests to check their visual capacity.
WHAT CAN BE DONE?
It used to be that the only option for younger children was glasses because traditional lenses involved a more complex cleaning and care routine. However, optical technology has come far since then, making soft contact lenses, which children most commonly wear, easy and comfortable to wear.
MiSight 1 Day daily disposable contact lenses are no different. They are just as easy for children to use in terms of insertion and removal and are disposed of every evening. This added convenience means no solutions or contact lens case to deal with, thus reducing their chances of getting an eye infection.
The real differentiating factor that sets them apart from the rest, is the fact that the progression of myopia can be substantially slowed through the use of MiSight 1 Day contact lenses.
Indeed, MiSight has been shown to slow the progress of myopia by more than 50% in children. This is partly due to the simplicity of this method; at Safarian & Simon, we know that when it comes to children, the most successful treatments are the ones that are easy to use. Feedback about this method has been very positive with 9 out of 10 parents reporting that their children are 'extremely satisfied' with their experience of daily disposable contact lenses from MiSight.
BOOKING YOUR EYE APPOINTMENT
If you are looking for an experienced provider of MiSight contact lenses in London, we can help. The friendly team here at Safarian & Simon are committed to supporting your efforts to meet your child's eyecare needs in ways that fit well into a busy, family lifestyle.
Once you have booked your appointment, our expert contact lens practitioner, Sachin Patel, will be there to guide you through the initial consultation, fitting and teaching your child how to insert and remove contact lenses correctly, along with regular follow up appointments.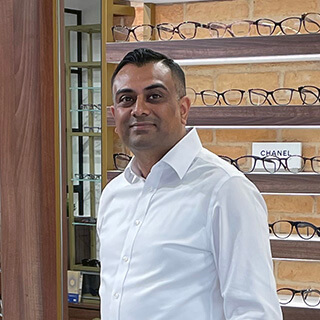 Why not request an appointment online or call us on 020 7722 1917 for your child's NHS eye examination and discover the freedom that MiSight contact lenses could provide for them this half term?
Have a great half term – we look forward to seeing you soon!