Premium Comprehensive Eye Tests
Safarian and Simon Opticians is an independent, healthcare-focussed therapeutic optician located in the elegant and tranquil residential area of St. John's Wood.
We have been a family-orientated optician practice since first joining the neighbourhood in 1970. Since then, the practice has outgrown the original premises, due to high demand, allowing us to relocate to our new, larger premises at 72 St. John's Wood High Street.
As a leading London optician and glass eyewear store, our ethos is to provide caring and continuous attention to each patient as an individual through our advanced skillset and highly technology based practice.
The dispensing team are friendly, highly skilled and take pride in our optical and design expertise. With our state-of-the-art equipment for eye health consultations and cutting-edge designer glasses, we not only ensure your eyes are in optimum health, but we also make you look and feel great too.
We changed opticians recently after constant poor experiences at our last one. I couldn't fault Safarian & Simon. Everyone is charming, appointments available at times that suit me (no more 3 months wait til the next available slot!) and I feel really confident that these guys know what they're doing. Highly recommended.
Ali Towfighi
25 November 2023
Our family has been going to Safarian and Simon for the past 10 years and every visit has been an excellent experience. From the ease and flexibility in booking with David, to Sachin Patel's incredibly thorough eye exam and his medical expertise, to ordering of glasses with great recommendations from Sukru Yengil, yet again a fantastic experience. The level of technology used throughout the eye exam and ordering of glasses always seems designed to enhance one's experience. Thank you!
Always great customer service!
Husam Elnaili (MiddleEast)
22 November 2023
Excellent service all the way and many thanks to Sukru who is an amazing professional person
Such friendly staff and really efficient service. Store looks wonderful too. And they had all the latest tech for eye tests. 5 star experience overall.
Edmar Gwiazda
18 November 2023
Exceptional opticians. The staff are welcoming, friendly, and extremely knowledgeable. Sachin is an excellent Optometrist, with great attention to detail, and goes to great lengths to ensure the best possible care. Sukru is a superb dispenser, and provides excellent advice and support with no expense spared. Thank you to a great team for looking after my family and I.
Azeb Hunegnaw
18 November 2023
Very professional helpful and knowledgeable team of opticians.
Jenny Chandler
17 November 2023
Excellent. I don't think you will find a more knowledgeable optician and all the staff have great customer service skills
Jackie Hayward
17 November 2023
Expert knowledge and genuine care. Exceptional customer experience.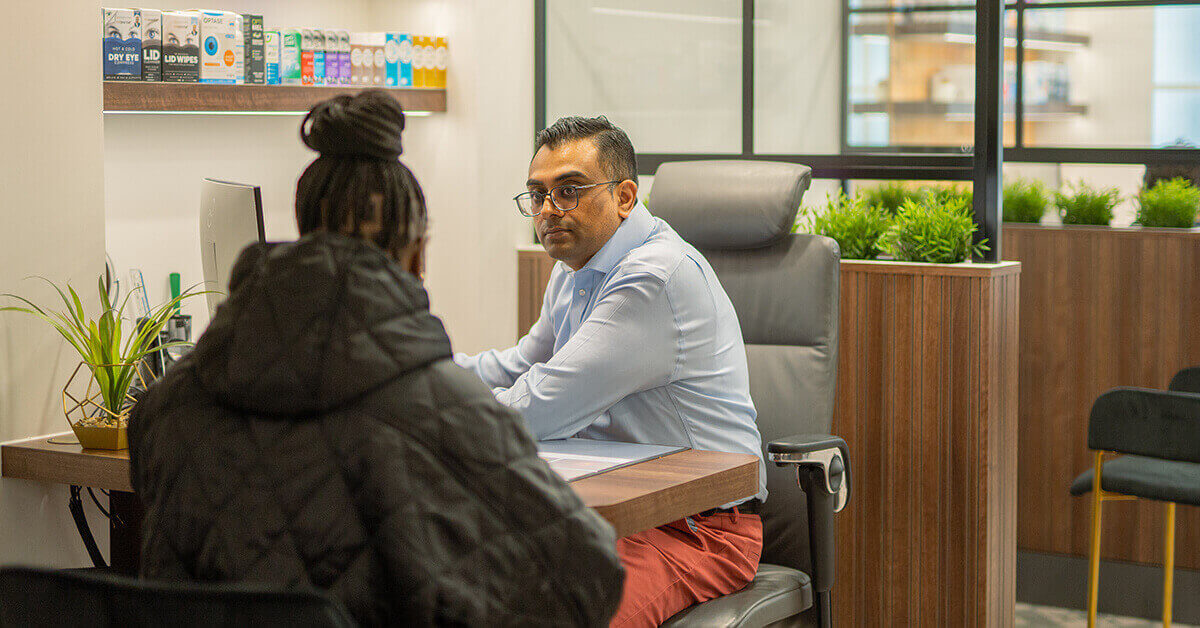 Our Products and Services
Safarian and Simon deal directly with reputable manufacturers and suppliers, so we have total confidence in the products we dispense and the services we offer.
We are renowned specialists in the most advanced treatments of dry eye syndrome and blepharitis, as early technology adopters , we ensure we will be years ahead of other opticians – why miss out on vital eyecare, make sure to visit us!
Zeiss Vision Care
We offer the world-renowned Zeiss optical lenses including the most respected varifocals. Using the Zeiss Visufit which measures 45 million digital points on spectacles with 14 cameras
In-House Glazing Lab
We can provide 90% of single-vision lenses same day or next.
High-Quality Glasses
We constantly update our eyewear ranging from fashion to niche eyewear, giving you the latest looks.
Advanced Eye Exam
We perform an in-depth eye exam that delves into the overall condition of the eyes which can pinpoint earliest signs of eye conditions.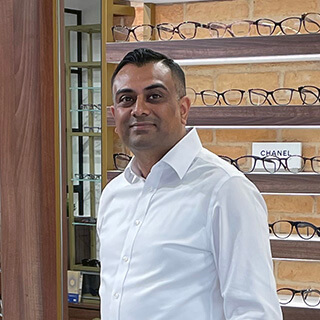 Sachin Patel
Director Optometrist
Sachin Patel is our Director and highly skilled Optometrist.
His ability to solve patients' needs comes from a combination of his advanced skill set and listening ability. This has allowed him to build up a great relationship with his patients.
Sachin is one of a few optometrists who has an active interest in spectacle lens dispensing, this has served his patients well as he can recommend spectacle lenses to suit a patient needs during the eye examination. His continued learning across all eyecare has gained multiple post graduate certificates and diplomas.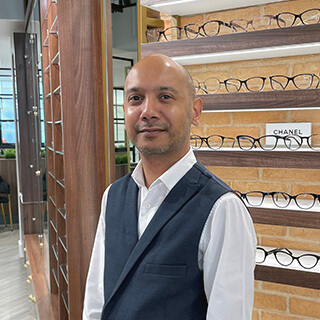 Navin Pundu
Manager and Eyewear Specialist
Navin has created his own legacy through his unique glasses dispensing techniques.
Due to his vast professional experience, he can recommend the perfect frame and spectacles lenses ideal to fit the patient. Navin can understand a patient needs from both a cosmetic point and clinical aspect of the prescription.
As our chief glasses frame buyer, he dedicates himself to make sure the patient receive the highest level of service and professionalism.
Sukru Yengil
Optical Dispenser
Sukru has a great technical ability in dispensing complex prescriptions and helping to identify which glasses lens is most suited to your needs. His vast experience in the workshop allows us the ensure the spectacles are glazed and delivered to the highest standards.
Janak Nirmal
Dispensing Optician
Janak is our Dispensing Optician with an eye for flair. He is very caring with patients and loves to showcase his ability to merge optical needs with frames to create stylish looks that best complement our patients.
Anila Mistry
Senior Optometrist
Anila has a great approach with patients and has been practicing for over twenty years. This gives her a huge around of experience and is able to really to talk through any concerns you may have. She is well versed with all our technology and will explain the results to you at the end of the exam.
Our team are like family, they can assist with all patient needs and have a friendly conversation. Every time you visit Safarian and Simon, you will see the same faces and become familiar on first name terms.
At Safarian and Simon, we prioritise eyecare.
After investing heavily in diagnostic equipment, we are able to refer even more accurately to the correct Ophthalmologist for further investigation or treatment. Rather than being told to go a particular hospital or search out your own Ophthalmologist, we have recommended surgeons, who have worked closely with Sachin Patel for over a decade, to give you the best eyecare possible.