Advanced Comprehensive Eye Tests
We offer the most advanced comprehensive eye examinations that go beyond mere vision testing. Our team of highly trained optometrists utilise state-of-the-art equipment to detect a range of ocular conditions, including glaucoma, macular degeneration, and cataracts.
Our thorough approach ensures that every aspect of your eye health is evaluated, allowing us to provide personalised recommendations for maintaining optimal vision. What another opticians 'advanced' will probably seem basic once you have undergone our eye examinations.
At Safarian & Simon Opticians, we take the time to perform a comprehensive eye examination that is tailored to your specific needs, there is no one size fits all approach. Our experienced Optometrists are dedicated to providing you with the best possible care and attention, which is on-going once you leave the practice.
We understand that each patient is unique, so we tailor our examinations to ensure that you receive a thorough and seamless experience that keeps you relaxed and comfortable.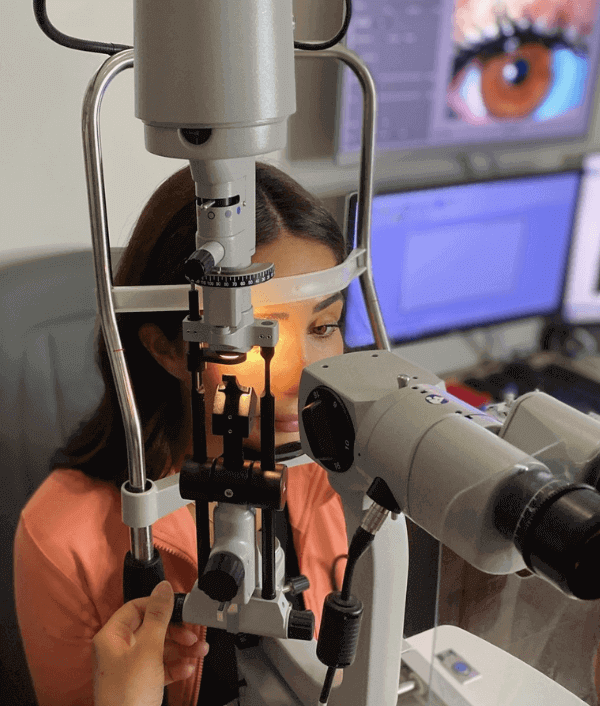 What to expect from a Safarian and Simon eye test
Our eye examination takes up to 40 minutes, but if any specific tests are required, we will advise you of their duration in advance where possible. In addition to assessing your sight and correcting any vision issues, such as the need for spectacles or contact lenses, we also check for potential eye diseases like Glaucoma, Cataract, and Macular Degeneration.
Safarian and Simon optometrists are constantly training and in contact with eye hospitals, allowing our patients to receive the most recent research findings on eye related problems. The optometrist will always explain the results of the various assessments and you will be given every opportunity to ask any questions you may have. The recommendations given at the end of the eye test by the Safarian & Simon Opticians will consider factors such as your working environment, lifestyle and any leisure pursuits you have, so we can meet your visual needs in the best possible way.
NHS Eye Tests
We understand that maintaining optimal eye health is essential to our patients. That's why we offer NHS-funded Sight Tests to those who are eligible, including patients under 16 or over 60 years of age, individuals with certain medical conditions, or those receiving certain benefits. For a comprehensive list of qualifying criteria, please visit the NHS website.
We are committed to serving NHS patients and will continue to do so. However, we highly recommend upgrading to our private eye examinations that include extra services to ensure early detection of a variety of diseases and degeneration.
Frequently Asked Questions
How often should I have an eye test?
We advise regular eye examinations for everyone including children, even when you are not experiencing any difficulties. In accordance with national guidelines the recommended intervals are set out in the table below.
These are guidelines, but an eye test may be clinically required more frequently than this which will be advised by your optician.
| | |
| --- | --- |
| Aged 15 years or below | every year |
| Aged 16 – 69 years | every 2 years |
| Aged 70 years and over | every year |
| Diabetic and Glaucoma patients | every year |
| Aged 40 years or over with an immediate relative with Glaucoma | every year |
What technology is used in a Safarian and Simon eye test?
Our advanced equipment includes Ultra-wide retinal imaging, which allows us to capture images of the inside of your eyes. This advanced technology enables us to detect even the slightest abnormalities and compare these images during future check-ups, ensuring that any changes are detected early on. Our imaging device is notably superior to those used by other opticians who offer 'digital retinal photography' as our imaging will capture up to 82% of the retina in seconds as opposed to 15%.
We also offer Optical Coherence Tomography (4D OCT) scanning using the Heidelberg Spectralis, which is the most advanced OCT used in eyecare. This highly accurate and repeatable device is commonly used only in private eye units and is the Gold Standard in detecting and monitoring Glaucoma and Macular Degeneration. NASA even uses it, making it the clear OCT of choice. You will often only see the Heidelberg Spectralis in research only.
The Visionix 120 is a significant investment in detecting unconventional glaucoma. This imaging device measures the size of the eye where eye pressure is produced and drained, and it measures corneal shape and thickness for the most accurate pressure reading. It also measures your prescription, giving us confidence in our prescriptions.
Should I have a private eye test or use the NHS?
To ensure optimal eye health and timely detection of conditions like macula degeneration and glaucoma, we suggest that patients consider upgrading their eye examination to a private package, which comes at an additional fee.
Private eye tests with Safarian and Simon include advanced services, such as Visionix 120 Scan, 4D OCT, and retinal imaging, as well as improved eye pressure measurement, which are integral to an enhanced eye examination. While not currently covered under the NHS Sight Test, these services are essential for a thorough examination and early detection of eye diseases. We have detected many abnormalities using the technology which we feel would not have been picked up with a non-advanced exam.
For patients currently under NHS hospital care, it is worth noting that follow-up monitoring may be less frequent or non-existent. As such, those with a history of macular degeneration or glaucoma are strongly recommended to opt for private a 4D OCT diagnostic exam, which offers unparalleled accuracy and repeatability.